Services for every adventure and experience level
Planning ahead and preparing for your adventure begins with your own self-development. Novice to expert, frontcountry day-hiker to backcountry ranger, and everyone in between, we can help you develop and maintain your skills.
North Star offers customized training and consultation based on your needs and schedule. Tell us about your upcoming adventure or expedition concept and we'll provide the advice, assistance, and support you require to achieve your objective.
North Star offers
:
Expedition, Trip and Trail Planning Consultations:

- Equipment Selection (ultralight to expedition...boots to backpacks...and everything in between)
- Load Planning (individual packing advice to group gear cross-loading)
- Navigation Assistance (map & compass or GPS)
- Fitness Preparation & Trail Nutrition Advice
- Travel Threat Awareness & Risk Management
Customized Training and Advice to Fit Your Needs
Leave No Trace Awareness Workshops
Leave No Trace Trainer Courses
Personalized Global Guide Services
Contact us
today to discuss your needs and arrange training or consultation for yourself or your group.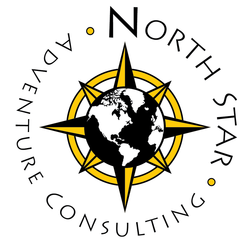 Giving Back to the Community...and Nature
We strive to be good stewards to the environment and our community, and we convey this to our clients through education and example. Join us in our cause and on the trail...wherever your destination.
Founded on
Leave No Trace
Principles and over two decades of adventuring, North Star Adventure Consulting provides the finest in outdoor education and trip planning to help ensure the success of your journey, no matter where your quest may take you.
---